Getting the hell outta town never goes out of style, but—like everything else in life—it requires time and money. Do you wanna travel internationally? Probably. But the best window most of us can hope for, without blowing through that precious PTO, is the long weekend; federal holidays, summer Fridays, that one random day of comp time you've been sitting on.
While you're probably not hitting, like, New Zealand or Morocco or the Greek islands or anything too far-flung, there are a great many international destinations where you can enjoy a legit escape from the States in just a few days. These 17 cities are a quick hop from some of America's biggest airports—so duck out early if you can, hop on a red-eye, and enjoy the exhilaration of a trip abroad. We'll see you back at your desk Monday. Or, for some of you lucky bastards, Tuesday.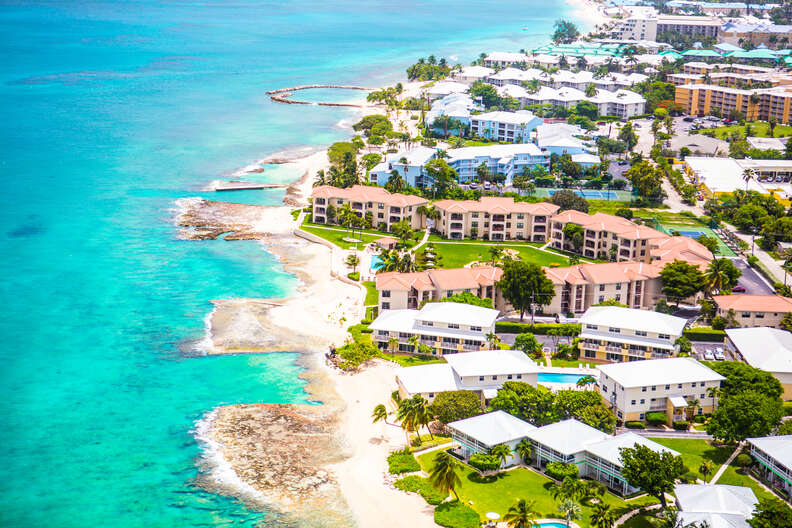 Cayman Islands
Travel time: You're in Miami? Great! A direct flight for you is just an hour and a half. From Chicago or New York, it's still under four hours. A round trip will run probably $300 to $550. Aim for March or April, the sweet spot when hotel rates drop but the rainy season hasn't quite yet kicked in.
Why you'll love it: The Caymans are three islands, each with a different vibe. On a short trip, you'll get the most out of your time on Grand Cayman, the largest. Visit the Cayman Turtle Centre to swim with sea turtles (and learn about local marine life). For a smoke show beach, which we're going to assume is one of your higher priorities, head a few minutes south to Seven Mile Beach. Maybe feed a stingray while you're there.
Not really an ocean person? That's cool—you can go to Hell, a surreal landscape of black limestone. It's free, though it's worth paying a small fee (meaning a gratuity) for a guide to give you a more thorough experience. Keep walking, if you must, on the renowned Mastic Trail, which cuts through a rad a nature preserve.
If you can make it during the first week of May, you can catch the annual Carnival festivities, known here as Batabano. And definitely don't go back home without sampling the world-class jerk chicken. It's ubiquitous, but East Ender's is a cut above. —Kastalia Medrano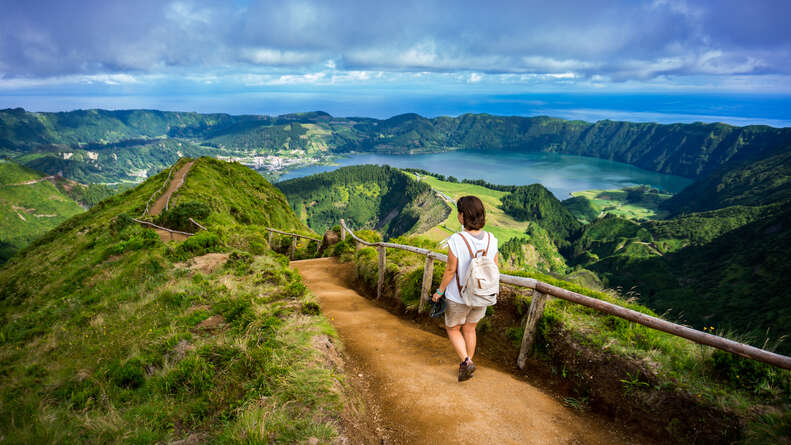 São Miguel, Azores, Portugal
Travel time: Bostonians, rejoice! The quickest way to this lush island in the middle of the Atlantic is a less than five-hour red-eye with Azores Airlines from Logan International (depending on the wind, don't be surprised if you find yourself in Portugal 30 minutes ahead of schedule). Delta has a seasonal summertime connection from JFK that touches down in Ponta Delgada in under six hours. For both, expect to shell out approximately $800 for a round-trip ticket during peak summer travel. By late September, airfare dips to around $500.
Why you'll love it: São Miguel, the largest of nine islands that make up the Azores, is a naturalist's dreamscape that combines dramatic, fog-crowned lakes, and relaxing hot springs along with slender waterfalls and even colorful, Hydrangea-lined highways. Everywhere you go, there's a moment that's begging to be Instagrammed.
To make sense of it all, sign up for a full-day tour with Holistika Azores, which takes a more contemporary, off-the-beaten-path approach to its itineraries. The eight-hour excursion could have you discovering eye-popping views of the Sete Cidades volcano, swimming under hidden waterfalls in Furnas, and hiking through the oldest areas of the island. Lunch, perhaps of lapas (a local shellfish delicacy best eaten with loads of butter) and beer in full view of the ocean, is included in the 80-Euro price tag.
Fill out the rest of your stay with foodie fervor: Visit pineapple green houses at Pineapples A Arruda, which also sells addictive pineapple chili oil (totally worth bringing home to friends); learn about one of Europe's only tea plantations; and then tuck into a meaty cozido, a stew that's cooked for hours underground by the steam of the hot springs in Furnas. —Chadner Navarro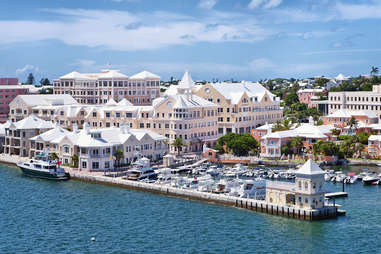 Hamilton, Bermuda
Travel time: Bermuda is an easy flight from the East Coast: two hours from New York, DC, or Boston; about three from Miami or Atlanta. Often you can get there direct for under $300.
Why you'll love it: Bermuda is a weird bird. It's not tropical, but it is warm and sunny and has pink sand beaches and sunsets over the North Atlantic. It's also close, both geographically and culturally. For better or worse, Brits and Americans have been there since the days of pirates (and, of course, the island is still a playground for captains of finance and their offspring), so you get gnarly old cannon-laden forts and a flourishing nightlife.
You can ride a jet ski into the Bermuda Triangle. You can visit The Swizzle Inn for an iconic rum swizzle, and then seek out authentic local fare in St. George's. And even if you can't spend hedge-fund-manager dollars, you can enjoy the same beaches, or venture onto the bicycle trails, try a stand-up paddleboard, and walk around Hamilton's Downtown. It's quiet, relaxing, and a shorter flight home than some New Yorkers' morning commutes. —Emily Zemler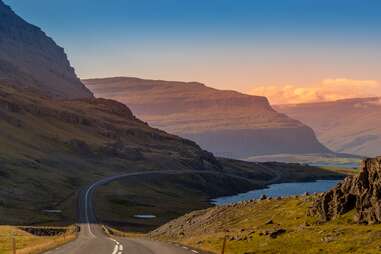 Iceland
Travel time: Believe it or not, from the East Coast, you can reach Iceland in about the same amount of time as it takes to reach California: five hours. What makes the Land of Fire and Ice especially enticing though—you know, beyond those WATERFALLS—is the fact that a round trip ticket can also run you much less than a trip out west, often dipping as low as $350 from cities like New York, Boston, and DC. (Once you land…well, the prices on the ground are a different story.)
Why you'll love it: I mean, hell, have you seen the pictures? How could you not? Iceland is one of few places in the world that'll not only meet but exceed your astronomically-high expectations. At the very least, the size and might of it all—you'll hardly come across a vista that doesn't make you feel like a speck—will help you understand why Nordic mythology is so notoriously chaotic.
There's hardly a better country to hit for a long weekend than one whose entire perimeter you can drive around in about 13 hours. Yes, you read that right: you can traverse the whole country in a little more than half a day. Given there's so much nature to see, though, you'll want to take things as slow as possible. The nation's geological masterpieces—from soaring, moss-green mountains speckled with daunting waterfalls, black-roofed churches, and idyllic cabins to active (but approachable!) volcanoes and black-sand beaches strewn with ice resembling diamond shards—will make abundantly, undeniably clear the sheer power of Mother Nature.
And when it's all said and done, don't sleep on the capital, Reykjavík, where you'll find a majority of the country's population. Surrounding the Hallgrímskirkja Church, the dramatic cathedral that sits in the heart of the city, you'll find cozy cafes, unique museums, and fresh seafood joints, as well as a nightlife scene that kicks off around 1am and lasts all night—and all morning—long. —Tiana Attride
Isla Mujeres, Mexico
Travel time: You can fly from LA to Cancún in about four and a half hours; from Houston or Miami, just two hours. A round trip will probably run you less than $250, and the ferry from Cancún is only a few bucks.
Why you'll love it: This island right off the coast is an excellent place to enjoy the things for which people go to Cancún without having to interact with the people who go to Cancún. The vibe is relaxed—this is where you go not to party for a weekend, but to laze. For a day at the beach, head to Playa Norte, where the waters stay waist-deep for probably as far out as you care to walk anyway. Jaunting around Isla Mujeres via golf cart is a popular move, but if you're willing and able, rent a bike or moped; the island is small and relatively car-free, so you shouldn't have to worry about safety.
Don't miss the Underwater Museum of Art, which comprises 500-plus statues and sculptures that are, as the name suggests, underwater. You can view them from a glass-bottomed boat, or snorkel and/or dive your way through the collection.
Visit during the summer, and you're in the planet's optimal time and place for snorkeling with God's most noble and mysterious creation, the whale shark. These gentle, school bus-sized creatures aren't actually sharks, but rather the world's largest fish. Though their migration patterns have stumped marine biologists for years, Isla Mujeres is where they're most reliably known to turn up. —Kastalia Medrano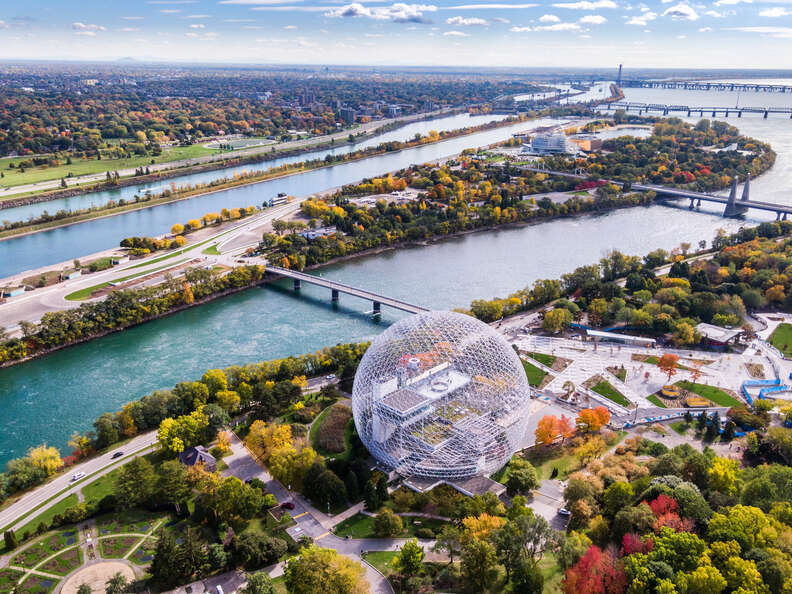 Montréal, Quebec
Travel time: Montréal is easy to travel to from any major US city, with New York, Chicago, Philly, and Washington, DC clocking the most flights per week. From major hubs, you can expect to be in the air got about three to five hours, but if you're departing from New York City and especially if you have four days instead of three, you might consider the train—though it's about 10 hours by rail, the Adirondack line is chill, relaxing, and hovers around $70.
Why you'll love it: There's a saying that Montréal is the closest thing in North America to a European city, but we call bullshit. It's its own thing entirely, and should be celebrated as such. Sure, there's a certain je ne sais quoi to charming cobblestoned Old Montréal, but the modern city is not content to stay in one lane. Old and new combine in fascinating ways, from the Mile End neighborhood, home to a large traditional Jewish population (and the best bagels in town) to the edgy Gay Village near the city center.
The cultural soul of Quebec, Montreal is a city of festivals, hosting everything from international jazz fests to spectacular circuses—Cirque du Soleil may have gotten its start here, but it's far from the only game in town. For foodies, international year-round markets like Atwater and Jean-Talon offer the best in cheese, pastries, and more, while world-renowned restaurants Joe Beef and Au Pied au Cochon elevate elk, venison, and boar to soaring heights. Of course, you could always settle for a fried bologna sandwich from Schwartz's Deli or Canada's national dish, poutine.
Canada also offers legalized recreational marijuana, so if weed is part of your travel agenda, you're in luck. Montreal's laws are pretty straightforward, with cannabis stores now open for interested parties 18 and older. —Joseph Hernandez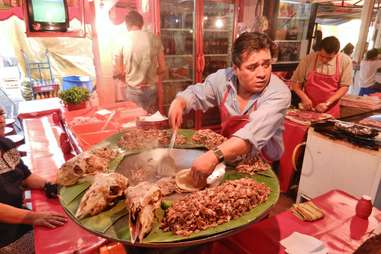 Mexico City, Mexico
Travel time: Direct flights from major airports will get you into the Federal District quick: two and a half hours from Dallas, three from Miami, four from LA, and five from NYC. Round-trip fare usually ranges from $300-$500. 
Why you'll love it: Anything feels possible here. Spend an afternoon wandering the tree-lined streets of super-trendy La Condesa or La Roma (like a Paris that rides the bus to work), and sip artisanal coffee while eavesdropping on local slang (no mames guey!). Get cultured in the Centro Historico, where grand colonial buildings and churches tower over the electric, modern murals that line the thronged alleys. The top draft choices among the 150 museums in the city are the stunning Museum of Anthropology and the Casa Azul of Frida Kahlo. Do 'em both.
At night, the city comes alive—as will you, when you sample pulque (a traditional, fermented agave drink, flavored with strawberry or celery) and befriend the mariachi band busking on the sidewalk. Get a midnight snack of the capital's renowned tacos al pastor, then stumble off to dance until the sunrise. Don't forget a day trip to the epic, pre-Hispanic city of Teotihuacan, where climbing the steep steps of the ancient pyramids will leave you eager for a long lunch in a restaurant in the desert: right next to a cactus farm. —Laura Yan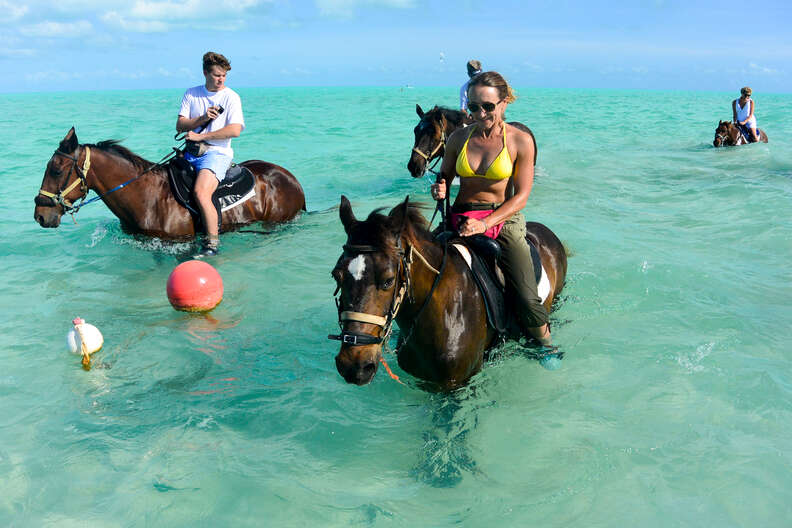 Turks and Caicos
Travel time: A direct flight from Miami will put you there in less than two hours; from Chicago or New York, less than four. You should be able to get a round-trip ticket for comfortably under $500 (or half that from Miami). Hurricane season spans roughly June to November—which means, so long as there's no hurricane approaching, that you can enjoy those beaches whilst they're cheaper and vastly less crowded. Plus, the currency (US dollars) will save you on conversions.
Why you'll love it: Turks and Caicos makes the news when Kardashians, or Jenners, etc., descend there to stay in a $33,000-per-night hotel. Yes, this place is (vacation) home to a lot of celebrities. But don't write it off as too exclusive or too expensive for you, a vacationer who is not Bruce Willis. There are hotels in the $200-$300/night range that will feel luxe enough to scratch the vacation itch.
As activities go, there's a beach full of puppies you can play with, so that's a start. A massive barrier reef makes the waters ideal for swimming and snorkeling. Set aside at least one lazy morning on Providenciales for Grace Bay Beach, one of the Caribbean's prettiest, a 3-plus-mile stretch of white sand with the unnerving blemish-free aesthetic of a high-quality stock photo.
If you get there by Thursday night you can catch the weekly fish fry, where dozens of local artisans and food vendors collide alongside live, local music. For an even quieter, off-the-grid weekend than what you'll find on Providenciales (often called Provo), catch a ferry to the North Caicos or Middle Caicos islands, or—for a weekend where you conceivably might not run into a single other person—Salt Cay, the smallest of the main islands, where the population hovers somewhere around 100. —Kastalia Medrano
Lisbon, Portugal
Travel time: About six and a half hours from New York, but Boston is the sleeper deal here: New England has a huge Portuguese population, and you can often find round-trip deals between Logan and Lisbon in the $400s, rivaling the best New York prices.
Why you'll love it: Lisbon is cheaper than many big European cities, it's beautiful, and the food and wine are fantastic. You'll want to spend your evenings drinking and eating your way through the streets of Bairro Alto on the northwest side of Lisbon's Downtown, but make sure to take day trips to both Belém and the panoramic views of the Atlantic Ocean in Sintra.
Belém is just a seaside tram ride away from Downtown Lisbon and it's worth the ride just to get pastéis de Belém—the Portuguese egg custard pastry—where it was perfected back in 1837. And yes, go see a Fado, ideally at A Baiuca and preferably with a few bottles of Vinho Verde. Then catch a flight home by noon Sunday: With the time change, you'll be back in New York by midnight, the perfect crime before showing up bleary but unbowed Monday morning. —T.M. Brown
Banff and Lake Louise, Alberta, Canada
Travel time: You can fly direct into Calgary from New York, Los Angeles, Seattle, San Francisco, or Chicago for something in the $400 range. It's a two- to five-hour flight, then a one- to two-hour drive into the mountains to get to Banff—this will be worth it just the second you see the views.
Why you'll love it: Visitors of all stripes converge on this mountain town—burly bearded motorcycle dudes, international tourists, grandmas, 20-somethings in toques (that's Canadian for "beanies")—to get a whiff of clean alpine air and to gaze starry-eyed upon the preposterously scenic Canadian Rockies.
In town, folks fuel up on bison short ribs and cured steelhead at Bison Restaurant and sip housemade gin at Park Distillery, but the siren call of Cascade Mountain, which frames Banff Avenue as you look north, beckons adventurers away from the fireplace. UNLTD will outfit you for snow, and have you on the back bowl at Lake Louise, Sunshine, and Mt. Norquay lickety-split with the SkiBig3 pass (starting at $120). Mid-January brings the Ice Magic Festival to the grand Fairmont Lake Louise, where you can cozy up at the ice bar or slide across the most glorious ice rinks with a killer view of Victoria Glacier as a backdrop.
Or you could come in the summer and drive the Icefields Parkway between Banff and Jasper; the highway offers sublime, unobstructed of the craggy Rockies. Taste a bit of the Athabasca Glacier at the Columbia Icefield Adventure, hike into Yoho National Park, or go waterfall trekking into Johnston Canyon and Ink Pots. Most importantly, don't forget your bear spray, especially in spring and summer when the wild berries are ripe for eating. —Keryn Means
Costa Rica
Travel time: Florida to Costa Rica clocks in at just under three hours. California and New York? About five. With two international airports, two coasts on two oceans and a capital city in the thick of it all, Costa Rica's pura vida is blissfully accessible. Airlines like Delta, United, Frontier, AirCanada, JetBlue, and even budget-line Spirit fly direct, with flights dipping as low as $200 in the off-season (the rainy season runs May through November). Pro-tip: That's when there are thinner crowds, cheaper flights, and slightly cooler air. So if you don't mind a bit of cloud cover, that's your window.
Why you'll love it: The country is a peaceful haven. Costa Rica disbanded its military back in 1948 and the government doesn't view its abundant natural resources as something to be capitalized on. Costa Ricans embrace pura vida holistically—the country consistently tops multiple happiness indices year over year.  
Fly into bustling San Jose and you'll be central to everything: Wild, verdant forests, swoon-worthy beaches, wildlife, even stunning resorts and hotels. Everyone's Costa Rica trip is whatever they make it, whether that's luxuriating poolside or trekking through the rainforest. Make life easier by renting a car, and you'll have access to places like Jaco, where the beaches are less crowded by fellow weekenders but nightlife and choice surfing are within easy reach.
Affordable and quick, chartered puddle jumpers are also available, if you want to get further out from civilization. Costa Rica boasts an incredible amount of biodiversity, so be prepared to see animals like hatching baby turtles make their way to the ocean, or even elusive ocelots. To the north, you'll find the active El Arenal Volcano—the area, La Fortuna, is known for its rustic hot springs and chic spas. Volcanic mud treatments, anyone? —Liv Lawson
Belize City, Belize
Travel time: Flights to Belize City are quicker than you realize from huge hubs like DFW, Atlanta, and Miami (three hours each) or Houston (two and a half hours). Tickets from those cities can get down under $300.
Why you'll love it: Lush tropical rainforest, check. Ancient Mayan ruins, not bad. Those cayes, though. This little Central American country has more than 200 small islands that roll out some of the clearest turquoise waters and blindingly white sand you'll ever see. For roughly the cost of your flight, you can Airbnb an entire island for the weekend.
 
If you'd rather mingle with locals, and maybe drink your weight in daiquiris, the most popular choices are Ambergris Caye and Caye Caulker. From there you can take a short boat ride out to the world's second-largest barrier reef to snorkel with a mind-boggling variety of stingrays, sharks, and fish. The Great Barrier Reef is bigger, but I can tell you from experience that Belize is better. Close the day with Caribbean vibes, jerk chicken, and coconut rice grilled on the beach, and ask yourself how you've lived this close to paradise without ever finding time to visit before. —Katie Lockhart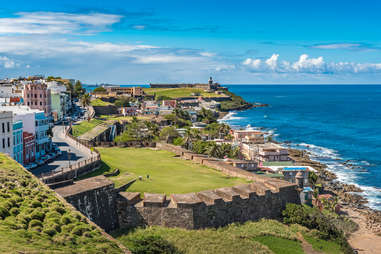 San Juan, Puerto Rico
Travel time: A three- to five-hour nonstop flight from major hubs (JFK, O'Hare, Dallas-Fort Worth, and Miami) to the capital city of San Juan will only set you back around $300 to $350 during low season.
Why you'll love it: Okay, we're cheating a bit here—yes, Puerto Rico is a US territory, but its culture is all its own. The sounds of parrandas and reggaetón provide the soundtrack for your weekend in San Juan, which is best spent dancing in the streets, eating way too many fried snacks, drinking at La Factoria, and taking in the rich history and pastel-colored colonial buildings of the Old Town.
Take a walking tour to get the full effect, then go off the beaten path to the hip Santurce neighborhood. Here you'll find brilliant colorful murals—the contemporary art festival Santurce es Ley attracts some of the world's most talented street artists every year. Santurce is also the site of La Placita, a produce market by day that transforms into a thumping street party Thursday and Friday nights.
Take a quick day trip if you can swing it: Among the best excursions are Vieques' bioluminescent bay; the adventure park of Toroverde, where visitors can hop zip-lines—some of the world's longest—over a lush canopy of trees; and El Yunque, the country's only tropical rainforest. —Michelle Rae Uy
St. Thomas, US Virgin Islands
Travel time: Four hours from New York; under three from Miami. You can find flights for well under $300 depending on where you're coming from, particularly in the off-season—hurricane season is wrapping by late October, too, making this an ideal winter getaway. 
Why you'll love it: Are we cheating once more with another destination that's not technically international? Yes. Why? Look at that photo, dummy. In the two years since the back-to-back blows of hurricanes Maria and Irma, US Virgin Islanders have pulled off an extraordinary recovery. Restaurants, hotels, shops, beaches of course—everything you could want or need is up and running. It's been remade better; stronger. And don't think of St. Thomas as just a passenger dumping ground for cruise ships, because the proper way to explore it is definitely under your own power. 
Start by taking a walking tour around St. Thomas' gorgeous historic downtown, during which you can ask for personalized recommendations for where you should head next. Journey over to St. Croix for the pristine beaches and maybe a turtle or two. Snorkel through the light, light blue water, which will be warm no matter when you go. Try as many varieties of mangoes as you can get your hands on (but don't just, like, pull them off the trees—those ones have probably already been claimed by eagle-eyed locals waiting for them to ripen.) —Kastalia Medrano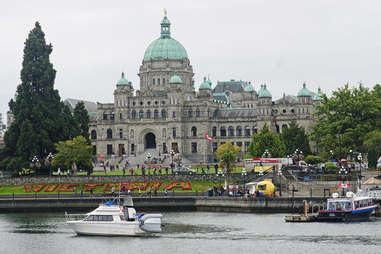 Victoria, British Columbia
Travel time: Get there direct from Seattle for less than $350 on a 45-minute direct flight to YYJ. Or fly into Vancouver (YVR) and then hop across the Strait of Georgia to Vancouver Island (a bit confusingly, it's where you'll find Victoria, not Vancouver) via commercial flight, seaplane, or ferry. The whole trip will take you four and a half hours from LA, or six hours from Houston or Chicago. Or drive and ferry from Seattle in about five hours.
Why you'll love it: Vancouver—so sexy, so filmable—overshadows its smaller, harder-to-reach provincial capital. But the Garden City offers a mix of the bold and the British that makes its tourist-friendly yet genuinely rad Downtown one of the chillest little vacation nooks on the West Coast. Stone-clad buildings like the grandiose Empress Hotel and British Columbia's Legislature loom Englishly over seals splashing happily amid houseboats in the harbor nearby. Red Fish Blue Fish, a harborside fish-and-chips shack housed there in a renovated shipping container, has eats that justify what will likely be a lengthy wait in line.
 
And if the view inspires you to get out on the water? Hop in a speed boat and chase some orca, taking a second to notice the snow-splattered Olympic Mountains rising in Washington state, still visible to the south. —Lewis Kelly
Cartagena, Colombia
Travel time: Three hours direct from Miami and Fort Lauderdale, or five hours direct from New York, with flights starting at around $250 courtesy of United, Avianca, and JetBlue. Alternatively, you'll find lots of connections through Bogota.
Why you'll love it: You can be forgiven if you forget that Colombia is Caribbean—but it's a gem, with white beaches cushioning the blue waters and all the ceviche, cocktails, champeta, and cumbia you could dream of. Still retaining the fantasy charm, the old town is riddled with tropical food spots, with plenty of opportunities for drinking rum and dancing exclusively with your hips in the local taverns. It's where romance seeps through the city's historical walls, exuding warm, tropical beauty in every corner. And should that not be enough, boats will take you to any spot within the nearby Islas del Rosario—otherwise known as the next thing you'll find to paradise.
You're still going to be at the forefront of the tourism industry there. But hurry: in the past 10 years, Colombia has seen a 250% rise in visitors, yet prices haven't caught up to the spike. You can eat fabulously well for under $20, with equally acceptable rates in hotels and Airbnb rentals. All of this perched on the exquisite Caribbean coastline, the ideal sanctuary to find your 100-hours of solitude. —Daniel Cole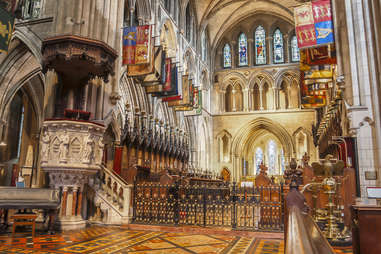 Dublin, Ireland
Travel time: If you want to play hooky in Europe but only have a long weekend, this is one of the closest and most manageable destinations. Direct flights from New York, Philadelphia, Boston, and other major East Coast cities run about six and a half hours, and for as cheap as the $300s.
Why you'll love it: Dublin's hardly a secret, but it's one you can easily browse past if you're planning a Euro trip. Look, it's dense, walkable, culturally rich, and full of folks who will drink you under the table day or night—don't overthink this. For a blowout three-day weekend, it's ideal.
On these cobbled streets, you'll meet street performers doing magic and making dog sculptures out of sand. Skip the tourist-choked joints around Temple Bar and instead hit up the art scene at the Irish Film Institute or The Temple Bar Gallery and Studios. Pop by the Leprechaun Museum and sit in a giant chair 10 times your size, best after pints and drams at the Guinness Factory and the Jameson Distillery. If you prefer to eat your alcohol, try some Guinness stew or stop in at Murphy's for a rotating menu of ice cream flavors that includes an Irish coffee flavor.
Then keep the party going. Hit the Brazen Head for live music or hit a pub on Harcourt Street for a sloppy, make-out-with-a-local kind of evening. Your new friend (what's his name, again?) might lead you into a bleary made-up game like "good bottle, bad bottle." (Hint: it always ended in bottles breaking.) After two days soaking up the culture, history, and ethanol, head out for a tour of the stunning countryside and the cliffs to clear your head and lungs before heading back home to real life. —Hannah Friedman
Tijuana, Baja California, Mexico
Travel time: Mexico's northwestern-most state is a 20-minute drive from the San Diego airport, so just do the math on a cheap flight into SAN and add a car rental. Or, hell, just take the trolley into Tijuana, whose airport is best accessed via Latin American airports.
Why you'll love it: Butting up directly to the US-Mexico border and the Pacific Ocean, Baja California is a close-to-home departure that will leave you feeling like you just got off a 10-hour plane ride (minus the 10-hour plane ride, of course). Tijuana, directly on la Frontera, is both safer and more dynamic than you might expect—a magnet for art, design, and like its sibling San Diego, craft beer tours. The city's now home to boutique hotels, alongside a glut of fine and upscale-casual dining restaurants serving internationally lauded Mexican cuisine.
 
Down the coast highway is the port city of Ensenada, known for its second-to-none fresh seafood options and the Valle de Guadalupe, Mexico's finest wine country. With 150+ architecture-forward wineries, inventive boutique hotels, and restaurants helmed by Michelin-starred chefs, this less-explored food and drink paradise is a side of Mexico most people outside of Southern California (and plenty of people in it) haven't yet experienced. —Jackie Bryant
Want more Thrillist? Follow us on Instagram, Twitter, Pinterest, YouTube, TikTok, and Snapchat.